Are you looking  for  leading outdoors routes? Come with us & start leading nice easy routes and progressing little by little with no pressure at all, following the instructions of our oficial climbing guide Albert Segura
 Combine climbing in one of the best places in earth with relaxing on the beach after the effort  or kayak in the nice Siurana reservoir...
Yes Summer!! No!! is not to hot!!. We have lots of shady places and some over 1000m altitude, some like Pratdip or Carrasclet, that are only suitable for climbing in these time of the year.... Is a good season combining climbing in the shade with nice and relaxing swims...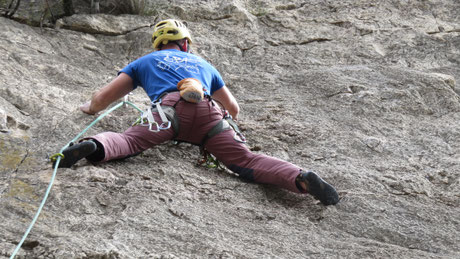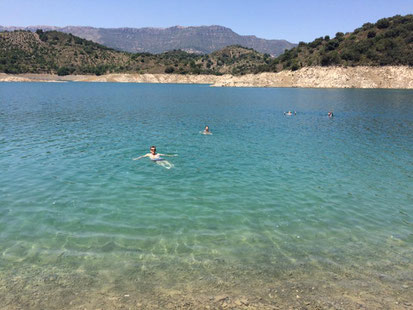 For climbers of all ages and skill levels.
Come to climb with us and meet new climbers through sharing good sporting routes together. Whether you travel by yourself, or with friends you're sure to make some great new friendships through the week.
Whether you are a novice or a very experienced climber, these rock climbing holidays are great value.
Book yourself a short break and enjoy climbing fantastic rock with us!
Relax every day on the nice beach of Cambrils after climbing or having a nice swim in the river, swimming pool or Siurana reservoir
7 days (6 nights) sport climbing around the excellent Sierra de Prades Mountains (also known as the Costa Daurada climbing area)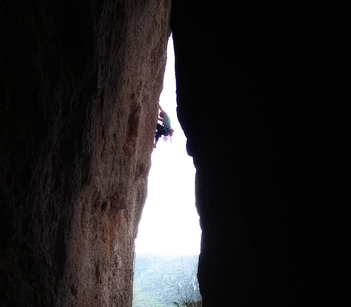 | | |
| --- | --- |
| Program         | 16-22 July |
| Day one | Climbing in Arboli (limestone), get use to the rock and first steps to lead routes, then relax at Cambrils beach |
| Day two | Climbing in Montsant (conglomerate), keeping leading and practicing technique..., then relax at Siurana Lake |
| Day three  | Kayak in Siurana Lake and climbing in Montral (another great place to get used to the lead climbing ) |
| Day four  | Practice small falls and then relax in some quiet beach |
| Day five | Climbing in Arbolí  and Tarragona Beach, dinner in Tarragona Italian restaurant  |
| Day six | Relax at the house or Arbolí swimming pool and climb in La Mussara |
| Day seven | Climbing in Arbolí and fish paella in Rock climbing house |
Areas we climb in can include:

- Siurana: The premiere sport climbing venue in Catalunya, and among the top destination crags in the world
- Arbolí (El Falcó): This is without doubt the very best sector among the many Arbolí crags. Similar in style and rock type to Siurana, but in general with much longer pitches up to ~45m!
- La Mussara: Is a large area split into various crags, each with different characteristics, including some multi-pitch routes.  The grades here are concentrated in the F5 to F7a range on good quality conglomerate rock.
- El Montsant: Has over 500 routes on very solid and compact conglomerate rock with many pockets.  Here the various crags are up to 200m long that are conveniently split into tiers linked by spectacular paths and ladders. 
- Masriudoms: A lonely outcast from the major tufa crags further north in Catalunya, this huge cave is the place to head on the coldest, rainiest and windiest days during the winter. The only downside is the very limited amount of climbing for those operating below F7b.
- Margalef: The second largest area with over 800 routes across a wide grade range.  The crags are situated either side of a secluded river meaning that you can climb either in the sun or shade, depending upon the time of day and your preference.
---
 Included:
- Qualified Guides
- Coaching and guiding
- Airport o Train transfer from Tarragona or Reus

- Transport to the cracks
- All gear included
- Exceptional organization
- Accommodation 
- Breakfast
- Picnic (you can take some food from the large breakfast to snack during the climbing)
- Free wifi
July lead and Beach climbing week
Dates: 16-22 July
Price:   590 € 
10 % OFF IF YOU COME WITH A PARTNER
Not included any additional holiday expenses such as travel
---
How to reserve your place
1. Send an email to info@rockclimbinghouse.com confirmed you would like a place on the trip
2. You have to pay a deposit of 100 £/100 € with your debit/credit card or Paypal account

3. When we receive the above we will make the reservation
4. Each trip will be confirmed as going ahead once 3 people have paid their deposits
5. You will recieve a letter confirming the trip; this is the case so you can book your travel to Catalonia (Barcelona or Reus airport). Please don't book travel before the trip is confirmed.
6. You can pay the remaining balance about 10 days before the trip starts
---
Travel
You can travel by plane or by train. If you travel with plane you can choose between Reus or Barcelona airports; if you travel with train you arriving in Tarragona station.

We will pick up  July 15th from:
- Reus airport or Bus station 7PM
And drop off July 22th to:
- Reus airport  or Bus station 6PM
Tips for the trip
Book your flight to Barcelona,  much easy,cheaper  and very easy to catch a bus or train to Tarragona or Reus train station
Tarragona or Reus is only 30' from the Rock Climbing House and we will fetch you 
We can stop in the way to buy some food if you need it 
You will share the house with other climbers 
You can choose if one day you want to rest and we can manage to take you some where and collect you on the 
evening (maybe rest day on the beach?)
900m from the house there are one small supermarket and 2 bars 
---
Rock climbing kit list
For this rock climbing holiday we recommend that you bring your own:
Helmet
Harness
Climbing shoes
House kit list
For these trip you may need:
Sleppers 
Towel
Sleping bag
Swimming custom 
Tupperware (for picnics)
Sun cream
Warm cloths (is summer but we are 750m altitude so it can get quite chilly )